Saint Paul while being taken to Rome, visits his Christian friends in Sidon in the South of Lebanon

Acts 27:3 And the next day we touched at Sidon. And Julius courteously entreated Paul, and gave him liberty to go unto his friends to refresh himself.

Biblical Background
It is known that Saint Paul came several times to Sidon and Tyre( both port cities are located in the South of Lebanon) to preach and to visit the early Christians. Around the year 64 AD, he was taken to Rome to defend himself in front of the Caesar as he raised his case to him since he was a Roman citizen. He was being taken along with other prisoners by a Roman Centurion named Julius. During the trip, the boat stopped in the port of the biblical city of Sidon. The Roman Centurion was kind to Saint Paul and allowed him to visit his Christian friends who took care of his needs and he stayed three days. Those were the early Christians living in Sidon who converted from Phoenician Cananite pagan religion.




Click on photos to enlarge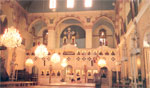 ST. Nicholas Cathedral In Sidon

Sidon Port & Crusaders Fortress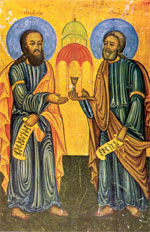 Saints Peter and Paul's meeting room in St. Nicholas Cathedral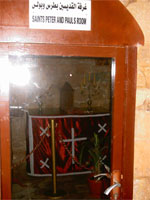 Saints Peter and Paul's meeting room in St. Nicholas Cathedral


Saints Peter and Paul's meeting room in St. Nicholas Cathedral