Lebanon a holy land and a message.

Throughout history, God has blessed Lebanon with many Saints. The valley of Saints in Qadisha, St. Charbel in Anaya, St. Rifqa, Nimat Allah ALHardini from Hardin, Father Yakoub ALKabooshi, and Father Bishara Abu Murad from Deir ALMukhalis, all prove that Lebanon is a sacred and holy land.

The Holy Father announced that Lebanon "The beloved land" as he calls it, is more than a country. Lebanon is a message. This country gave the first alphabet to the whole world and this was where Christianity grew in its infancy. The Holy Father in 1997 requested a special conference on Lebanon in Rome so that the leaders of the world realize the importance of its message as a unique religious, social and modern country with 18 Christian and Moslem sects living together in harmony regardless of some conflicts that always arose due to outside interference.
Click on photos to enlarge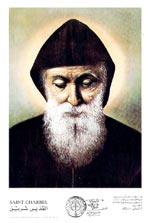 Saint Charbel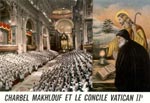 St. Charbel, Vatican II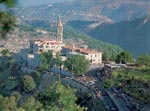 St. Charbel Monastery


Saint Rafqa


Nimatullah ALHardini



Bishara Abu Murad