King Solomon builds Temple from the Cedars of Lebanon

Kings-1 5:5 And, behold, I purpose to build an house unto the name of the LORD my God, as the LORD spake unto David my father, saying, Thy son, whom I will set upon thy throne in thy room, he shall build an house unto my name. Now therefore command thou that they hew me cedar trees out of Lebanon; …for thou knowest that there is not among us any that can skill to hew timber like unto the Sidonians. …. So Hiram gave Solomon cedar trees and fir trees according to all his desire.

Biblical Background
King Solomon wanted to build a temple for God, so he asked Hiram the King of Tyre, which is a port city south of the Biblical city of Sidon, to send him cedar wood from Lebanon. King Solomon also asked the King of Tyre to allow his servants to work along with the Lebanese Sidonians (from Sidon) to learn from them the skill of cutting timber. Both cedar and fir trees were cut from the Barook and Maaser Chouf area and later sent by sea on floats for which Solomon used 30,000 men. 960 B.C.

Click on photos to enlarge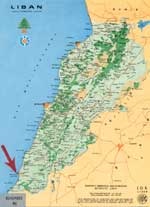 Location of Tyre


Cedars of Lebanon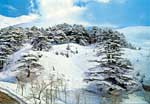 Cedars Of Lebanon in winter